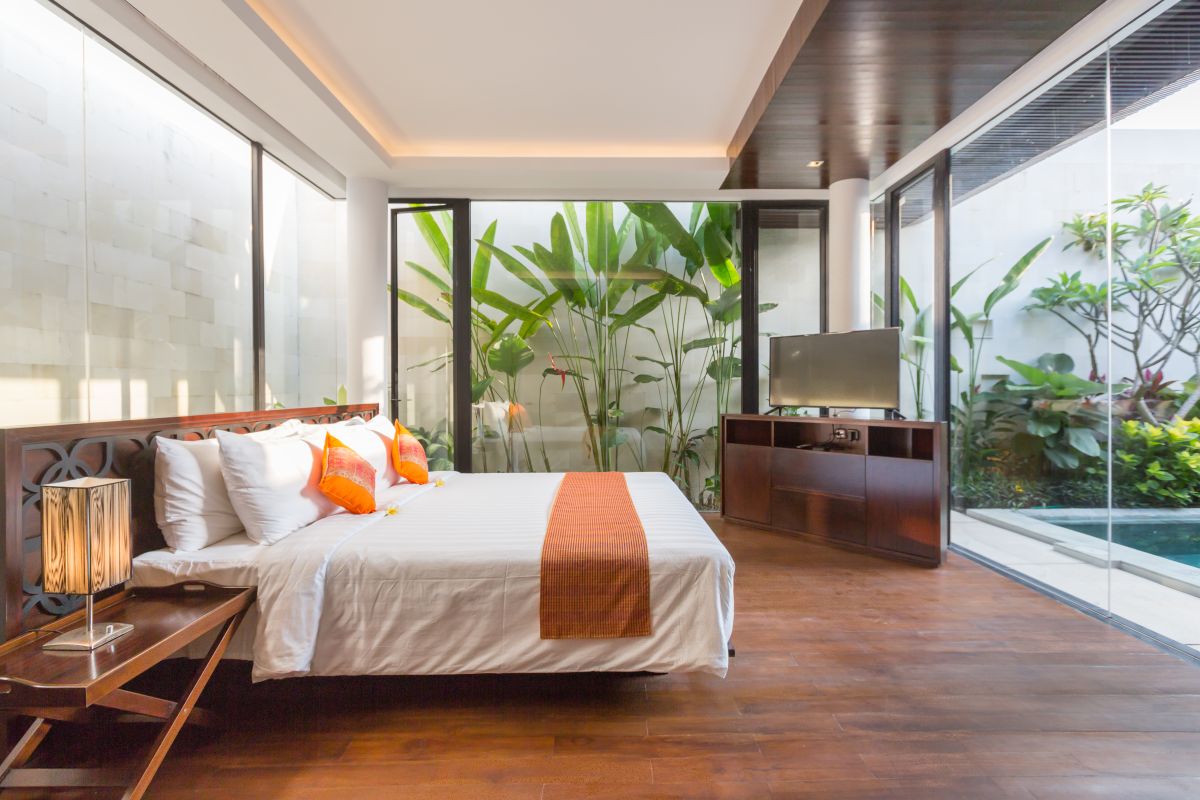 Top 10 Best Villas in Bali for a Family Holiday
Published on October 23, 2023
Villas
Bali is an island paradise that has something to offer everyone, including families with children. One of the best ways to experience Bali with your family is by staying in a private villa, where you can enjoy luxurious amenities, stunning views, and a dedicated staff to cater to your every need. To help you plan your trip, we've compiled a list of the top 10 best Bali villas for a family holiday, all provided by Bali Villas R Us.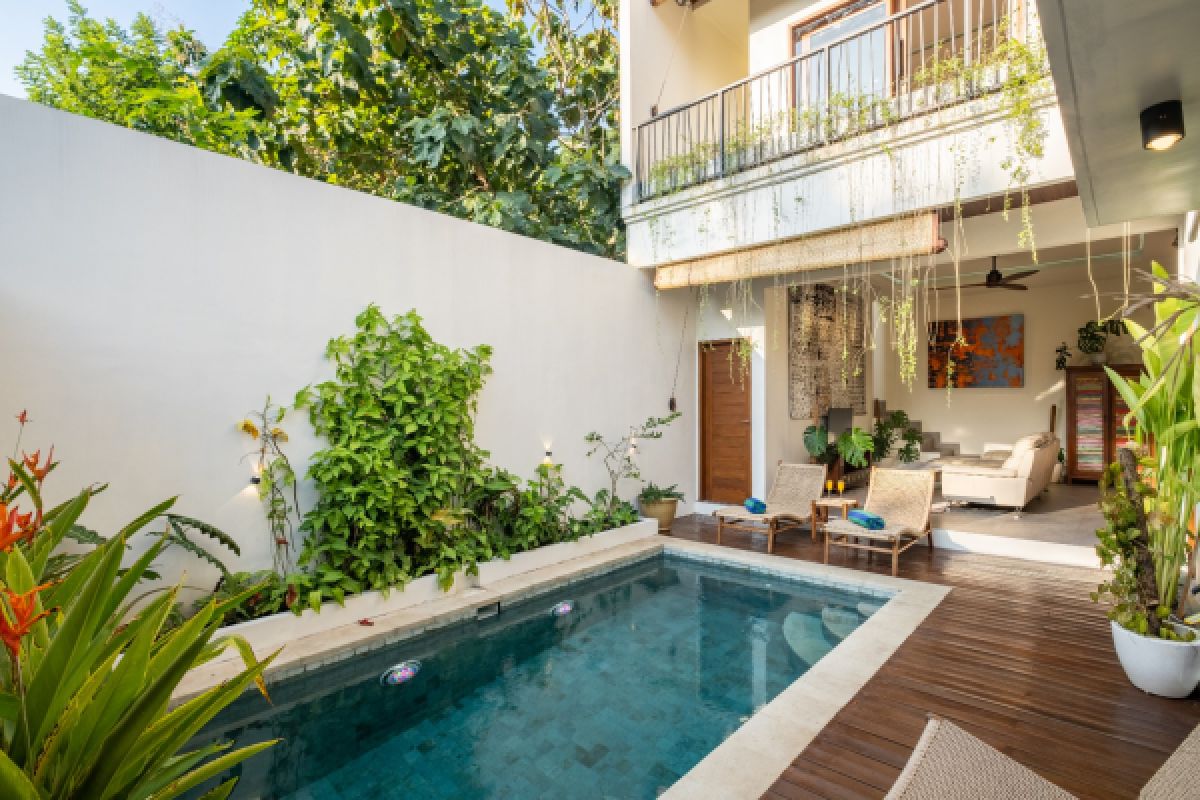 Erna Villa in Jimbaran is a remarkable holiday accommodation that offers an array of amenities and comforts for its guests. This villa provides a serene and enjoyable stay with a range of features to enhance your experience.
One of the standout features is the enticing outdoor swimming pool, perfect for relaxation and taking in the beautiful surroundings. You can also find a shared lounge and a terrace where you can unwind and savor the pleasant ambiance. The villa is equipped with free WiFi, ensuring you can stay connected and share your memorable moments with loved ones. Additionally, it boasts a striking view of the pool that adds to the villa's charm.
Erna Villa takes care of your convenience with free private parking and a shared kitchen, which is a great benefit for those who enjoy cooking their meals during their vacation. With three bedrooms, it can comfortably accommodate a group of travelers. The kitchen is well-appointed with essential appliances like a fridge and a microwave, making it easy to prepare your favorite dishes. In the living area, you'll find a flat-screen TV and a cozy seating space, perfect for relaxation.
The villa also features four bathrooms, each equipped with a bidet for added comfort. Towels and bed linen are thoughtfully provided, eliminating the need to bring your own. Whether you're planning a short or extended stay, Erna Villa offers the comforts of home.
For those looking to explore the local area, Erna Villa provides bicycle and car rental services. This makes it convenient for guests to visit nearby attractions such as Garuda Wisnu Kencana and Samasta Lifestyle Village, which are just a short distance away.
Furthermore, the villa offers a paid airport shuttle service to Ngurah Rai International Airport, which is approximately 7 kilometers from the property. This added service ensures a smooth and stress-free transition to and from the accommodation, making your travel experience hassle-free.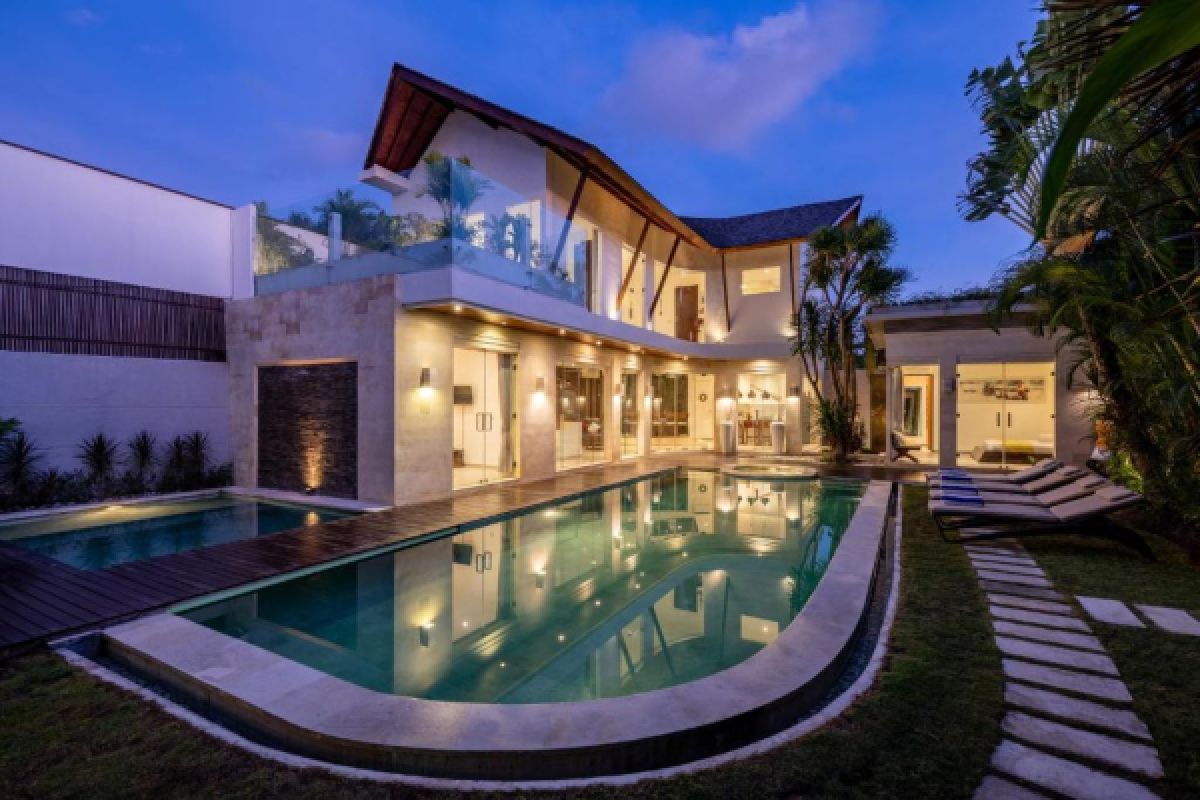 Villa Belle is a luxurious eco-inspired four-bedroom villa that boasts a private swimming pool and a separate Jacuzzi, making it the ideal choice for an opulent family holiday. Nestled in the heart of Seminyak, Bali, this villa is strategically located close to some of the finest restaurants and boutiques, as well as the famous Ku-De-Ta beach. It's a haven of tranquility and convenience, designed to provide utmost privacy and comfort.
The villa offers an array of relaxing spaces to suit your preferences. Whether you seek seclusion inside the villa, prefer the upper floor with its stunning views, or wish to bask in the serenity of the garden and pool area, Villa Belle has it all. For families with children, the villa is a haven of entertainment. Kids can choose to revel in the outdoor garden or stay indoors, where they can enjoy a range of modern amenities, including PlayStation and Apple devices.
Strategically positioned just behind the Red Carpet Champagne Lounge on Jalan Kayu Aya in Seminyak, Villa Belle is within walking distance of the renowned "Oberoi Street," a hub of Seminyak's vibrant street food scene. This prime location also provides easy access to a myriad of popular destinations in Seminyak, Canggu, Petitenget, and Kerobokan, ensuring that you can explore Bali's highlights with ease.
For those who want to savor the local culinary delights, a short ride to Kerobokan will lead you to charming "Warungs," where you can relish traditional Indonesian dishes that will tantalize your taste buds.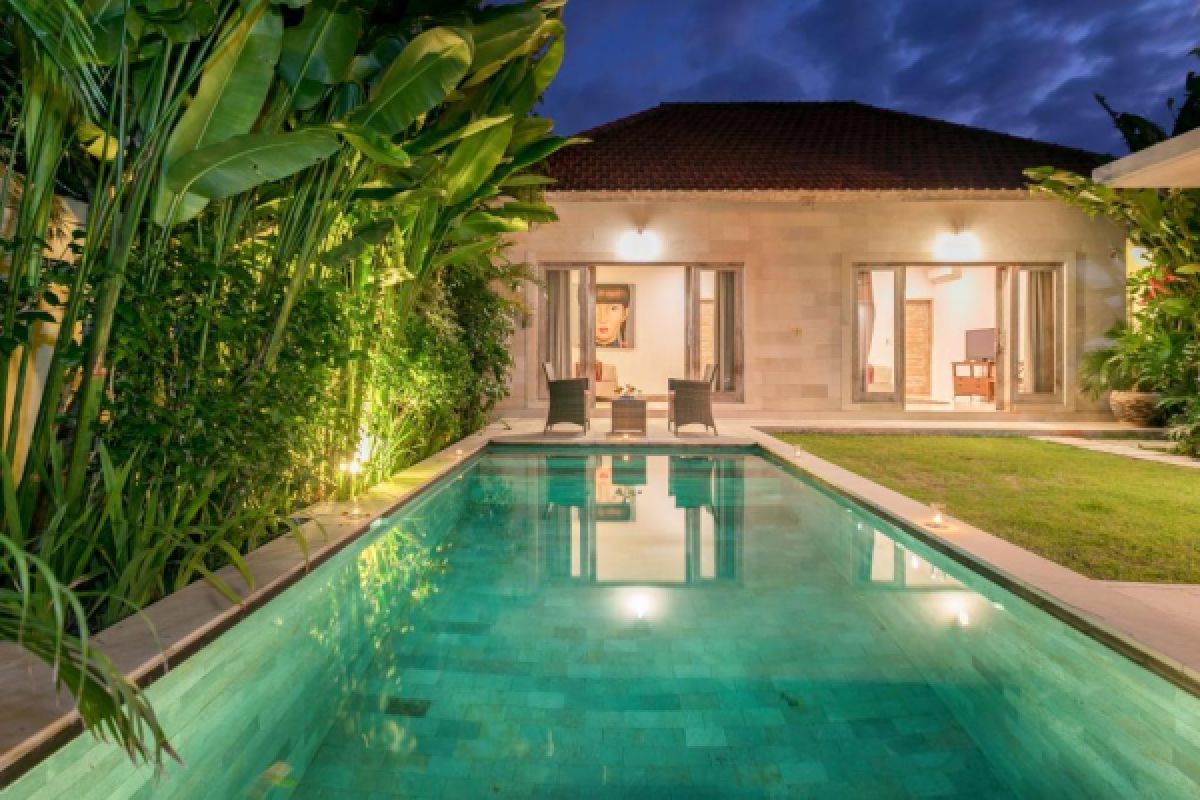 Villa Briana Seminyak, nestled on the picturesque Jalan Batu Belig, is the perfect private retreat for couples or families in search of a dreamy holiday experience. The villa's style is refreshingly pure and simple, exuding an intimate atmosphere that guarantees a charming and cozy living space, both day and night. The ambiance within this villa is notably serene, thanks to the harmonious blend of natural wood elements and modern design.
As you explore this enchanting villa, you'll notice the meticulous attention to detail in its decor and layout. The garden, lush with towering palm trees, graceful banana plants, and vibrant birds of paradise flowers, creates a tranquil outdoor haven.
The living area, strategically positioned adjacent to the bedrooms, offers picturesque views of the garden and the inviting pool. This space is a treasure trove of comfort, featuring a generously-sized sofa area, a newly furnished kitchen, and an intimate dining space that connects seamlessly with the patio area, allowing for al fresco dining or simply lounging under the sun. The well-planned kitchen is designed for convenience, with everything at arm's reach, and it includes a spacious island counter that serves as a bar area for those delightful evenings of mixology. All the furniture and specially curated painted artwork are brand new, contributing to the villa's welcoming and contemporary ambiance, creating a warm and modern setting that invites you to unwind and indulge in every moment.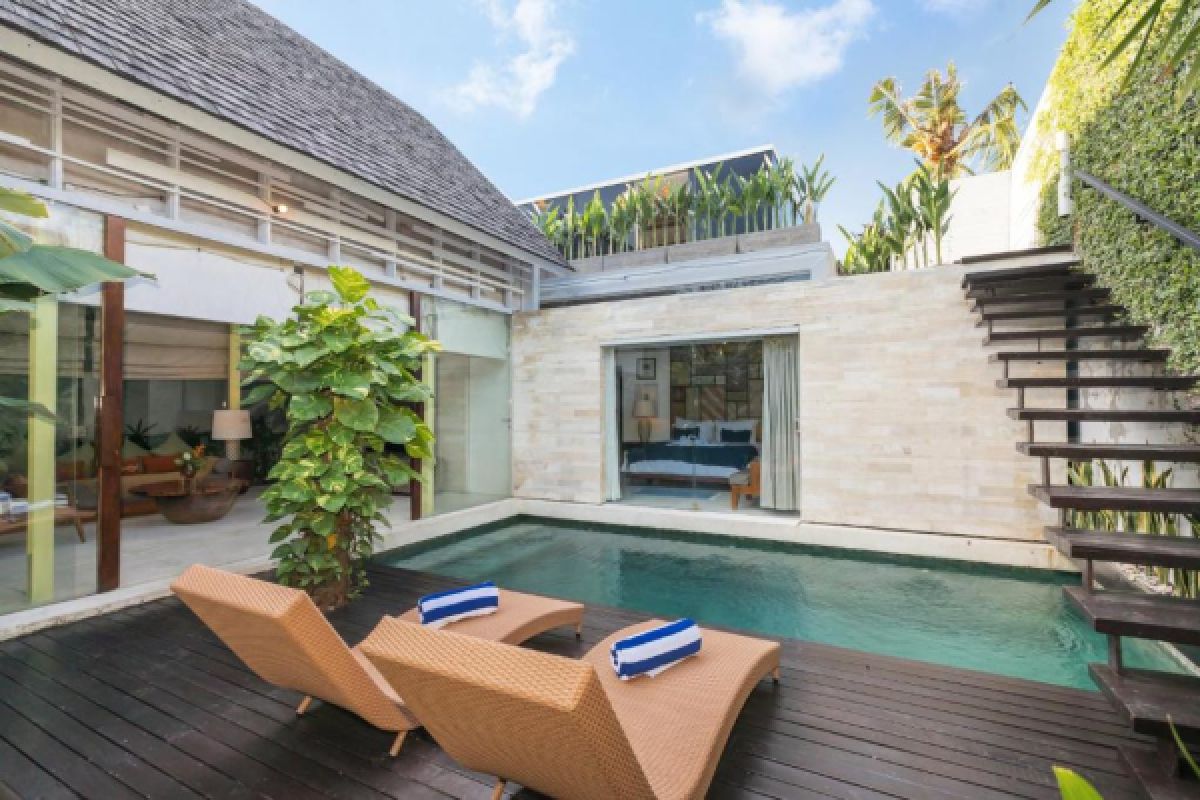 Experience the best of Canggu, Bali, with a stay at Villa Yasa Canggu. This stunning property is ideally situated just a leisurely 10-minute walk from the captivating Batu Bolong Beach. As soon as you step into this slice of paradise, you'll be greeted by a private outdoor pool that beckons you to relax and unwind. What's more, you can stay connected with the world throughout your stay, as free WiFi access is available all around the villa.
Step inside this well-designed villa, and you'll be struck by the high ceilings and the inviting ambiance. The living room is a cozy haven equipped with a flat-screen satellite TV and comfortable sofas, perfect for unwinding after a day of exploring. Each of the air-conditioned rooms is elegantly appointed and includes a wardrobe, a desk, and large windows that allow the natural light to pour in. The full kitchen with a refrigerator and essential kitchenware provides you with the convenience of preparing your meals. The private bathrooms are well-furnished, featuring both a shower and a bath, and come with complimentary toiletries. As you wander around the villa, you can also relish the tranquil views of the pool and lush garden, creating an oasis of calm and relaxation.
For guests with their own transportation, Villa Yasa Canggu offers the added benefit of complimentary parking, making it easy to explore the surrounding areas. And when it comes to dining options, you're in luck! You'll find a plethora of fantastic restaurants and cafes just a short 4-minute walk away, ensuring that your culinary cravings are always satisfied.
A Note About the Upstairs Bedroom: It's important to note that the upstairs bedroom is graced with a substantial glass wall. While this design element provides stunning views and plenty of natural light, it can have an impact on the indoor temperature, particularly during the warm summer season. We kindly ask for your understanding in this regard, and thank you for your consideration.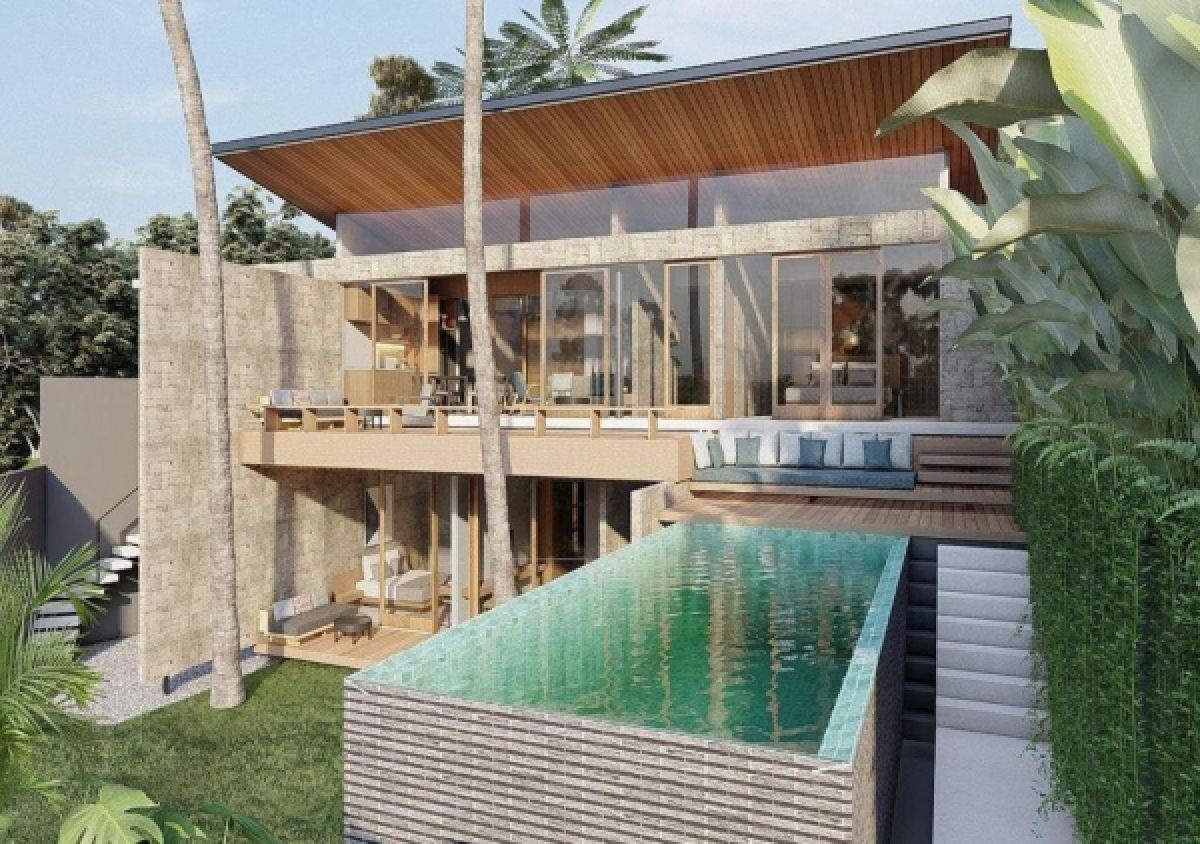 This Villa in Canggu Bali by Fays Hospitality, located in Canggu and just 3 kilometers away from Batu Bolong Beach, offers a delightful retreat with a focus on comfort and convenience. This villa is a welcoming haven for guests, with inner courtyard views and a range of amenities.
The villa boasts a private terrace with pool views, providing a tranquil setting for relaxation. Inside, you'll find a cozy seating area and a flat-screen TV for your entertainment. The fully equipped kitchen includes a dishwasher and a microwave, making it easy to prepare your own meals. Additionally, the private bathroom is well-appointed, featuring a bidet and comfy bathrobes.
To kickstart your day, guests can savor a continental or Asian breakfast, ensuring a tasty and satisfying beginning to your mornings.
A notable feature of the villa is the indoor pool, a perfect spot to unwind and cool off. The surrounding garden adds to the overall charm of the property, providing a serene atmosphere for relaxation.
If you wish to explore the area, you'll find the Petitenget Temple 8.1 kilometers away, and the Ubung Bus Station is conveniently located 9.1 kilometers from the property. The Ngurah Rai International Airport, the nearest airport, is situated 16 kilometers from the villa, and guests can opt for a paid airport shuttle service for their transportation needs.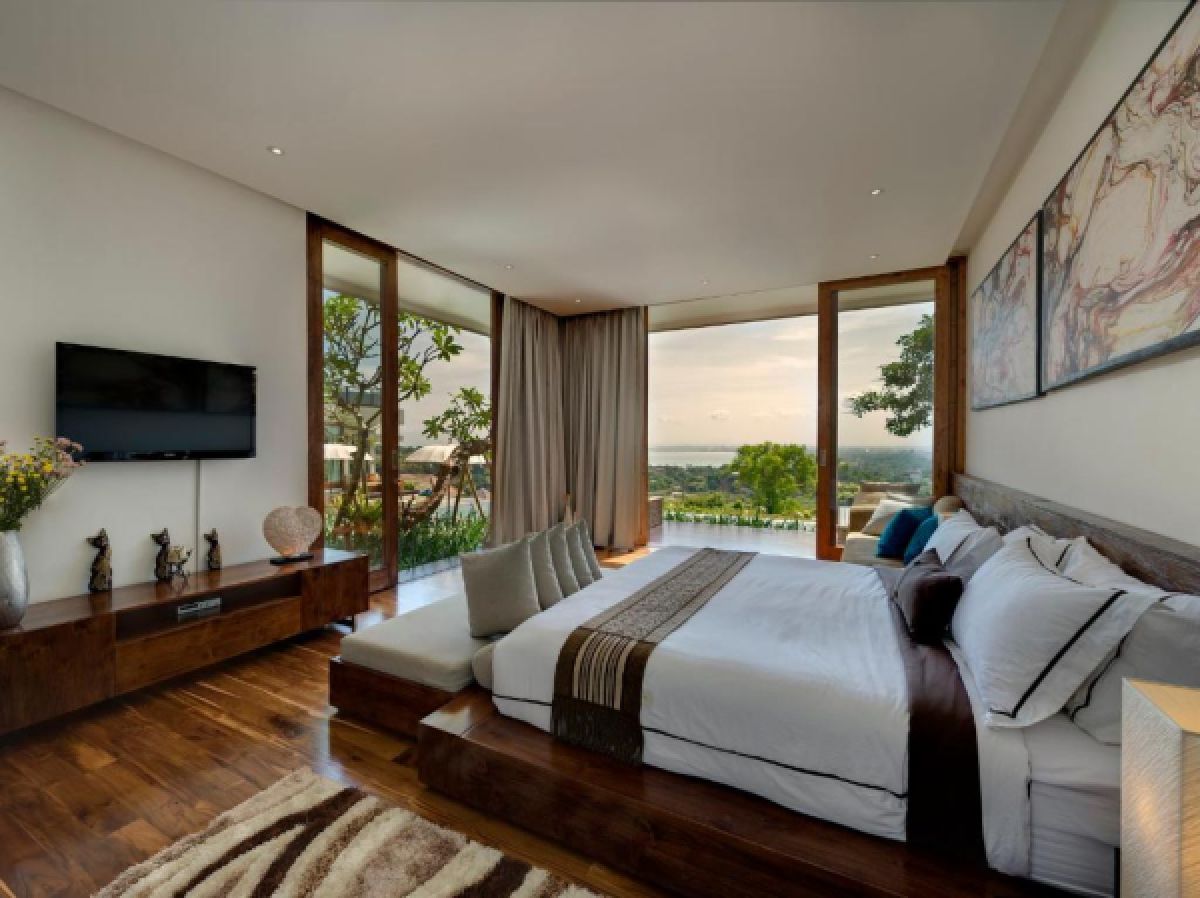 Welcome to Villa in Jimbaran, a remarkable retreat that beautifully embodies the ancient Chinese philosophy of yin and yang. This stunning villa offers a captivating interplay of light, space, and airiness, all harmoniously balanced with classic architectural elements crafted from teak, marble, granite, and recycled ironwood.
Every facet of this villa, whether indoors or outdoors, takes full advantage of its elevated hilltop location. The view from any vantage point is nothing short of breathtaking. Imagine waking up to a symphony of birdsong, while from the comfort of your king-size bed, you watch the mist gracefully rise off the surrounding mountains.
During the day, you have the choice of spending a leisurely time basking in the sun on your private veranda, where you can soak in the serenity and beauty of the surroundings. If you prefer a respite from the heat, the air-conditioned library offers a cool, tranquil space to unwind with your favorite book or simply enjoy a moment of peaceful solitude.
As the day transforms into evening, you can anticipate a sumptuous meal prepared by your private chef. While savoring the culinary delights, you'll have the privilege of witnessing the lights twinkling in the distance, adorning Jimbaran Bay, creating a mesmerizing and romantic backdrop.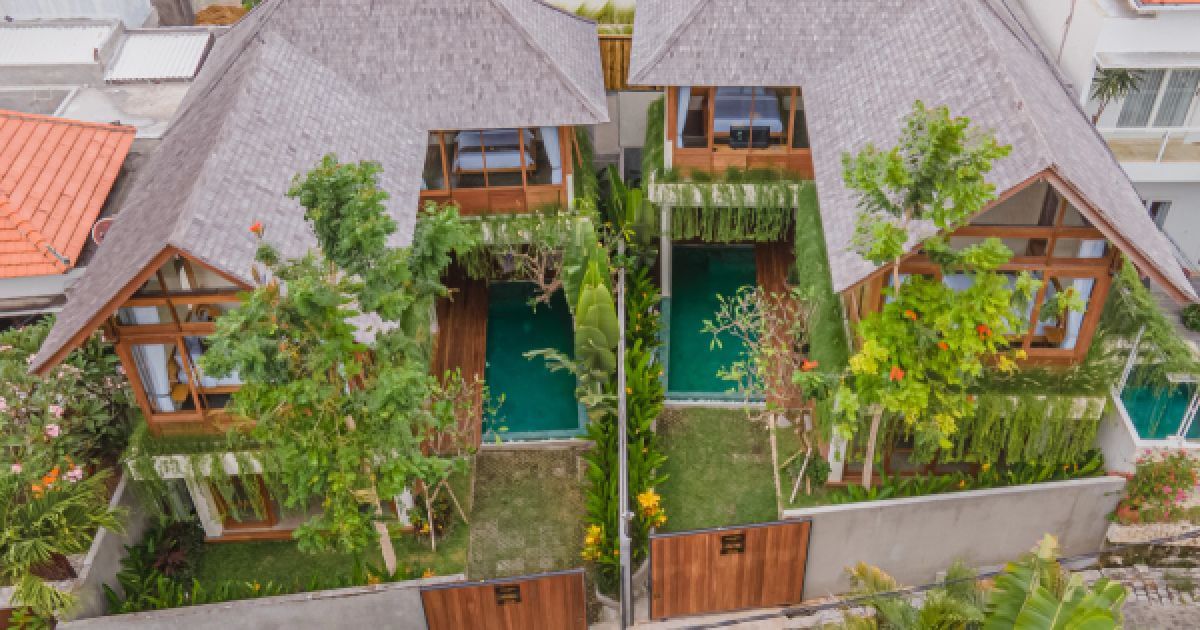 Embrace the comfort of these luxury villas, where you'll find yourself ensconced in modern interiors and cozy furnishings that make you feel right at home. Whether you're looking for a beachside getaway or seeking to ride the waves at renowned spots like Batu Bolong Beach, Echo Beach, and Pererenan Beach, these villas offer the perfect starting point for your adventures. Surfers, in particular, will find this area a true mecca!
For those who enjoy a blend of laid-back charm and vibrant city life, trendy cafés are conveniently situated nearby. Start your day with a coffee and wind down with cocktails at places like Human Bean, Sensorium, and Sa'Mesa.
This modern accommodation, ideal for a group of 4, boasts two bedrooms, each with en-suite bathrooms for your privacy and convenience. Step out onto the terrace or unwind in the open-air and air-conditioned living areas. The dining area, complete with a kitchen bar, provides a perfect spot for sharing meals and stories. Just beyond, you'll discover a beautifully landscaped garden, accompanied by a private pool, inviting you to relax in style.
To keep you entertained and connected, the villa is equipped with a 40-inch flat-screen TV and complimentary WiFi. Whether you choose to kick back by the pool, explore the nearby beaches, or simply relax indoors, there's ample space and modern amenities to cater to your every need.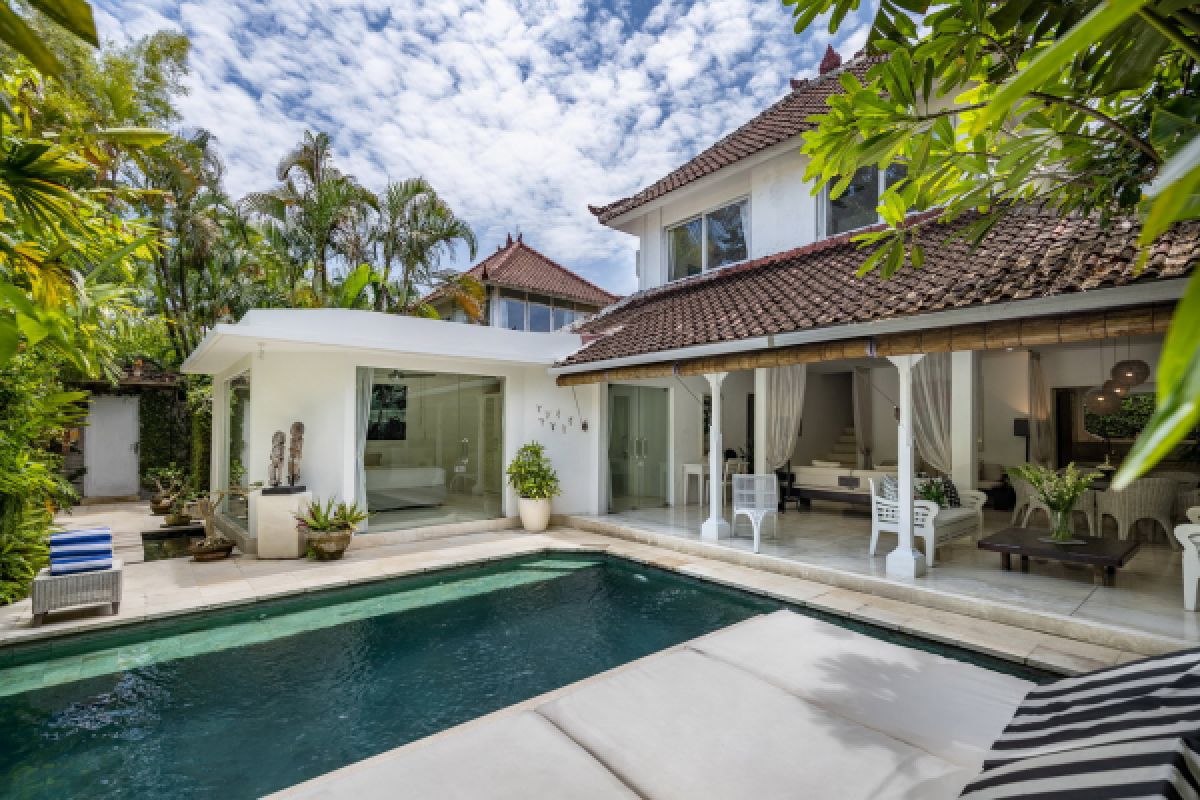 Esha Villa Drupadi Seminyak is an exquisite oasis designed to seamlessly blend elegant and classy styles. When you step into this villa, you'll be immersed in a spacious and luxurious environment that captures the essence of Bali. The interior is thoughtfully adorned with a dominant white color scheme, complemented by natural elements to create a harmonious atmosphere.
The villa offers a generous expanse of space where you can fully indulge in a sense of grandeur during your stay in Bali. Beyond the elegant interiors, you'll find a serene oasis featuring a pool surrounded by lush tropical gardens. It's the ideal setting for relaxation, just a few steps away from the vibrant heart of Seminyak.
The architectural style of Esha Villa Drupadi Seminyak is a fusion of elegance and class, ensuring that your stay is defined by spacious luxury. The tasteful interior design, primarily in white, is accentuated by silver and black elements, creating a sophisticated ambiance. To maintain a natural balance, high-quality wood materials have been thoughtfully incorporated.
Nestled along the famous Jalan Drupadi, Esha Villa Drupadi Seminyak places you right in the heart of Seminyak. This prime location provides easy access to the myriad of restaurants and boutiques that line both Jalan Legian and Laksmana (Oberoi). Whether you're seeking tranquility within the villa's exquisite surroundings or venturing out to explore the vibrant Seminyak scene, this villa offers the best of both worlds.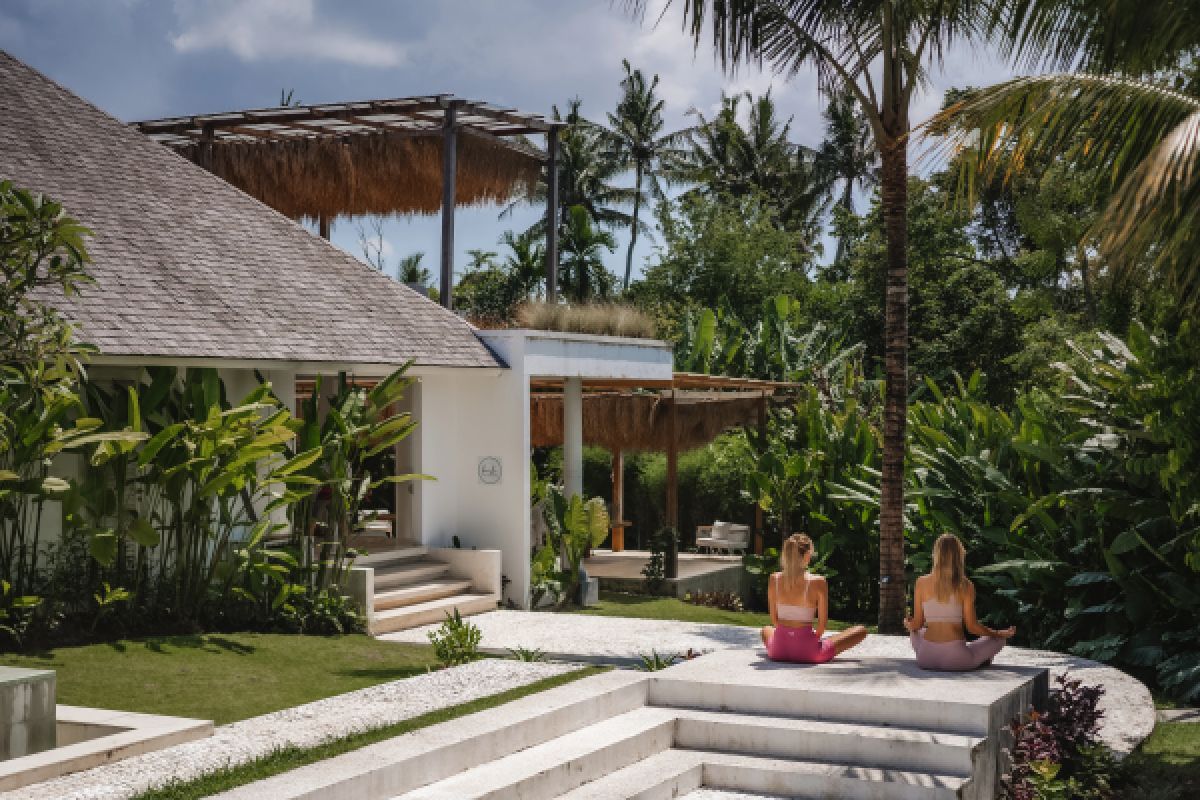 This villa, nestled near Munggu Beach, epitomizes the art of indoor-outdoor living, creating a seamless transition between the interior and the magnificent outdoor space. The lounge area effortlessly opens up to an outdoor dining area, framed by two inviting hammocks. This design flawlessly encapsulates the villa's connection with the natural landscape.
In harmony with its lush surroundings, the villa boasts bamboo structures and natural wood furniture that beautifully complement the walled gardens filled with vibrant tropical vegetation. A timber pool deck provides an inviting space to soak up the sun and enjoy the serene pool. For those seeking a higher vantage point, a spiral steel staircase adjacent to the lounge area leads to an elevated pavilion. Here, guests can revel in awe-inspiring views of the expansive rice paddy fields that envelop the villa, witness the world-renowned Bali sunsets, and engage in wellness and mindfulness activities such as massages or yoga sessions.
The villa's strategic location places various attractions and destinations within easy reach. Seseh Beach, a picturesque seaside escape, is a mere 2.3 kilometers away. Those with a spirit of exploration will appreciate that Munggu Beach is just 2.6 kilometers distant. For the convenience of travelers, Ngurah Rai International Airport is approximately 19.1 kilometers from the villa.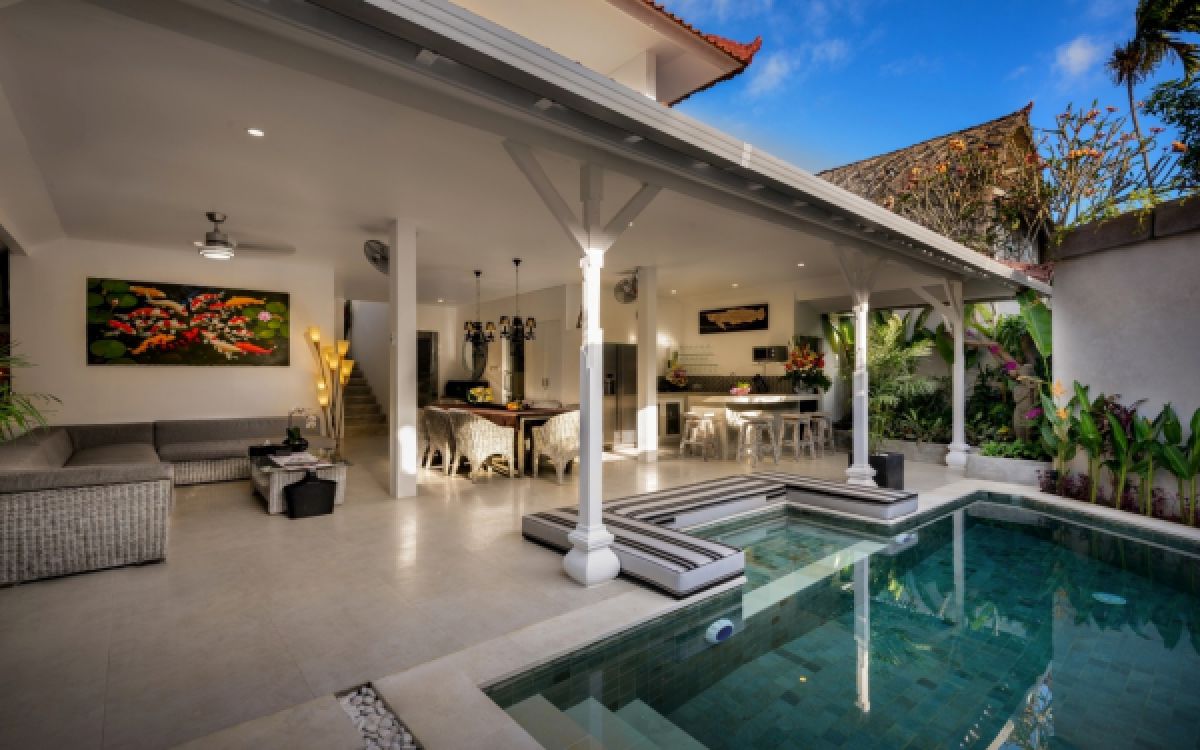 Nestled in the heart of Seminyak, Villa Ozamiz is a newly constructed four-bedroom villa that beautifully marries modern Balinese architectural style with spacious, family-friendly living. As you step inside, you'll be greeted by a generous open-air living area seamlessly connected to a dining space. The villa also boasts a well-equipped kitchen and bar with comfortable stools for your convenience.
Outdoors, a private pool beckons, surrounded by inviting poolside day beds, offering the perfect setting for relaxation and sun-soaked days.
Villa Ozamiz has been thoughtfully designed to cater to families, extending a warm welcome to children of all ages. Here, you'll have the pleasure of enjoying various serene spaces that offer complete privacy. Whether you choose to unwind by the pool, indulge in in-villa spa and massage services, or take advantage of the dedicated personal staff and exclusive services provided by our professional team, your stay promises to be one of utmost comfort and relaxation.
The villa's four bedrooms are designed with your utmost comfort in mind. Three of the bedrooms feature king-sized beds, while the fourth is furnished with twin beds. Each bedroom boasts an en-suite bathroom, flat-screen TV, DVD player, air conditioning, spacious wardrobes, a safety box, robes, and hairdryers. These well-appointed bedrooms provide a peaceful sanctuary for a restful night's sleep.
No matter which villa you choose, a family holiday in Bali is sure to be a memorable experience. With luxurious amenities, stunning views, and a dedicated staff to cater to your every need, these villas provided by Bali Villas R Us offer the perfect escape for families looking to relax and unwind in paradise.
Related Articles